Rewilding with Kristine Tompkins and team at Iberá National Park
Iberá National Park, Argentina
8 Days / 7 Nights
25 SEPTEMBER - 2 OCTOBER 2022
NEW SCIENTIST DISCOVERY TOUR
PRIVATE GROUPS
UPON REQUEST
This experience is a New Scientist Discovery Tour in partnership with Satopia Travel and Journeys with Purpose
STARTING FROM
$14,300
per person (USD) Incl. VAT
Small group experience / Limited to 14 guests
BOOK NOW
Booking is now open, submit
your Guestlist application to join.
In partnership with New Scientist Discovery Tours and Journeys With Purpose. By participating in this Hosted Experience, you will contribute to Fundación Rewilding Argentina conservation projects.
Questions? Contact us on Whatsapp
CHAT ON WHATSAPP
Welcome to a Hosted Experience with Kristine Tompkins at Iberá National Park
Gain unprecedented access to behind-the-scenes experiences and private viewings with Fundación Rewilding Argentina at Iberá National Park, for a once in a lifetime travel experience to explore world-leading nature conservation and rewilding projects.
The itinerary, in partnership with New Scientist Discovery Tours and Journeys With Purpose, is the perfect blend of scientific and wildlife-focused experiences within off-the-beaten-track locations and incredible life-changing stories with passionate environmentalist hosts. Expect a sundowner with magical wildlife encounters, walking safaris, jaguar sightings and animal tracking in the wilderness.
Discover and receive first hand privileged insight and knowledge into the creation of Iberá National Park and the other work of Fundación Rewilding Argentina across their varied nature conservation projects and success stories.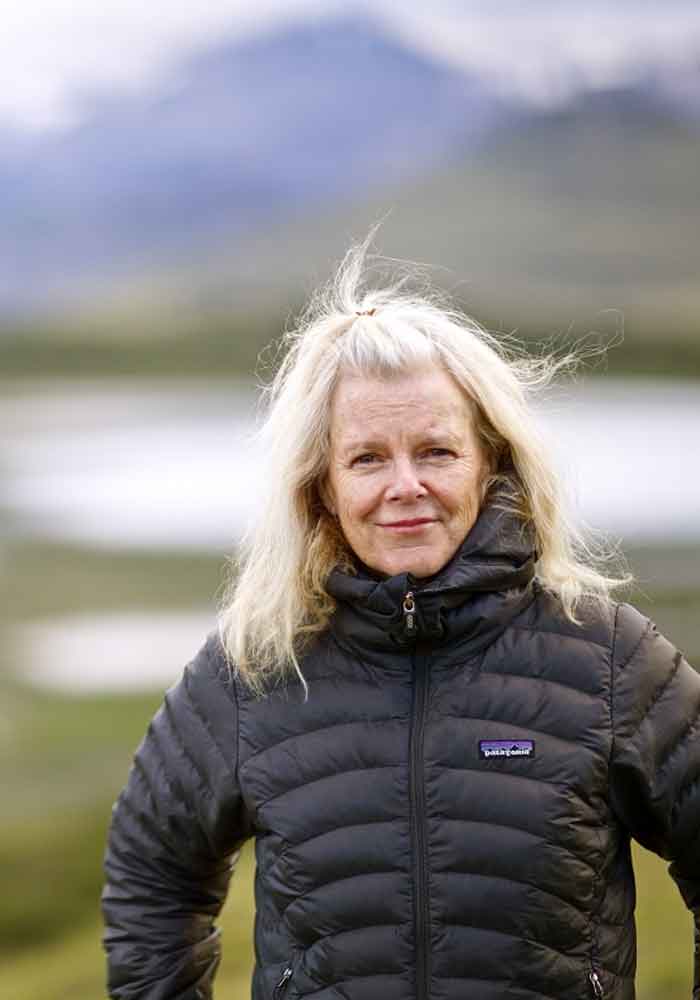 Meet Your Host Kristine Tompkins
Spend time with Kristine during the Conservation Experience at Iberá National Park. Alongside Kris, you will also meet the Tompkins Conservation leadership team.
Meet the Jaguar
This is a unique and exceptional behind-the-scenes privilege at the centre, an exclusive area where the jaguars are kept before their release into the wilderness.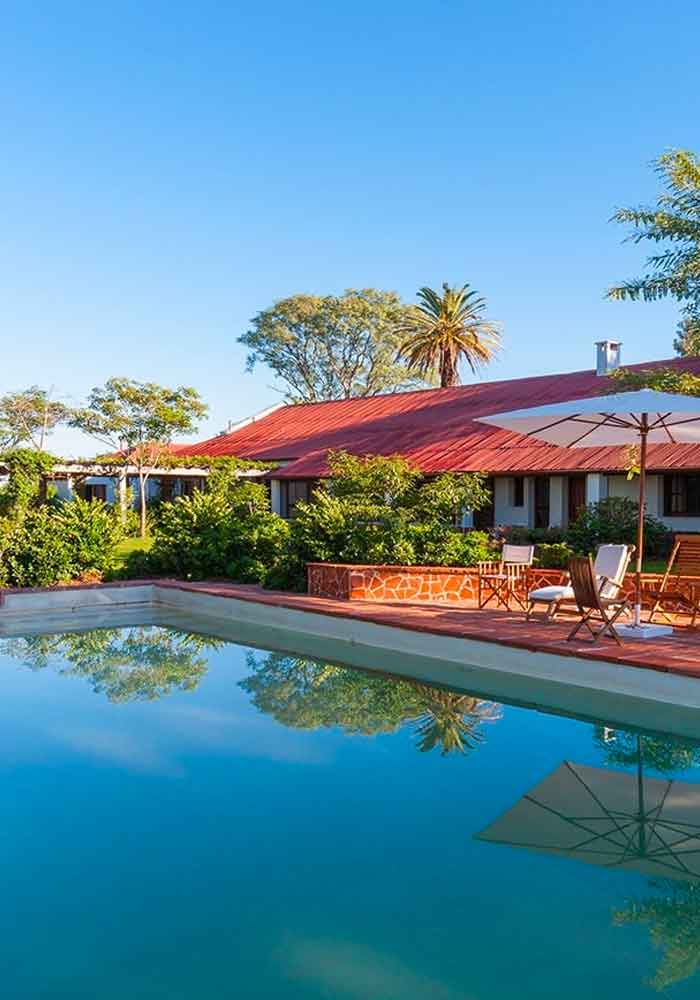 Hosteria Rincón del Socorro
Stay at a luxury lodge, built in 1896 in classic Spanish architecture on private 60-hectare reserve in a tranquil spot in the Esteros del Iberá wetlands.
Aguará Rewilding Centre
The Centre is oriented to develop research and support educational activities on the study of the ecology and conservation of animal and plant species in the region.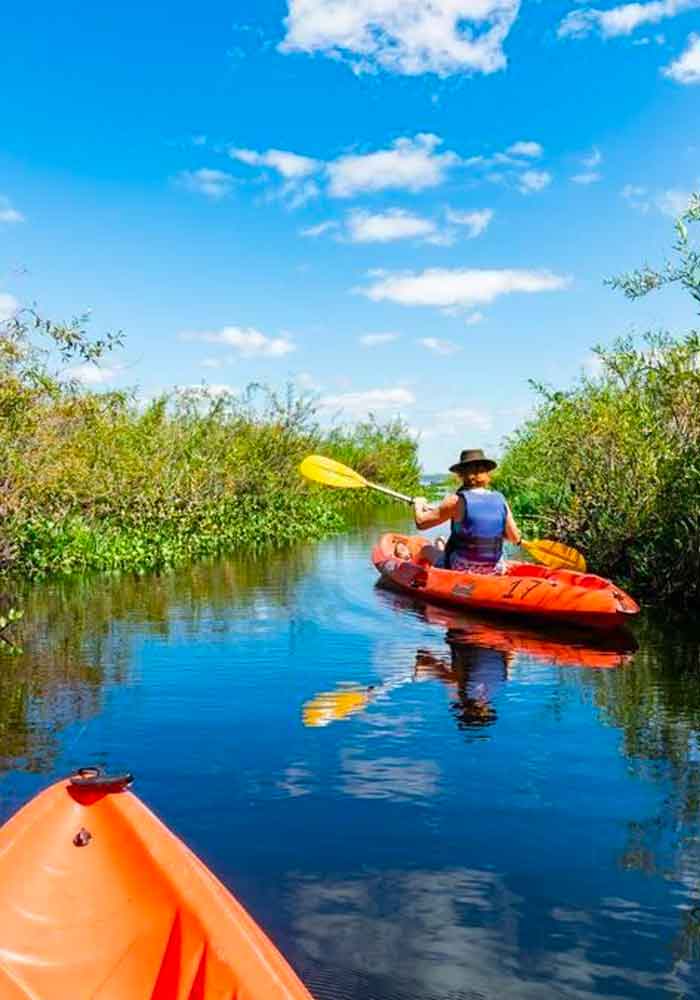 Kayaking
You can kayak from the lodge, a wonderfully quiet and calming experience with excellent opportunities to spot wildlife.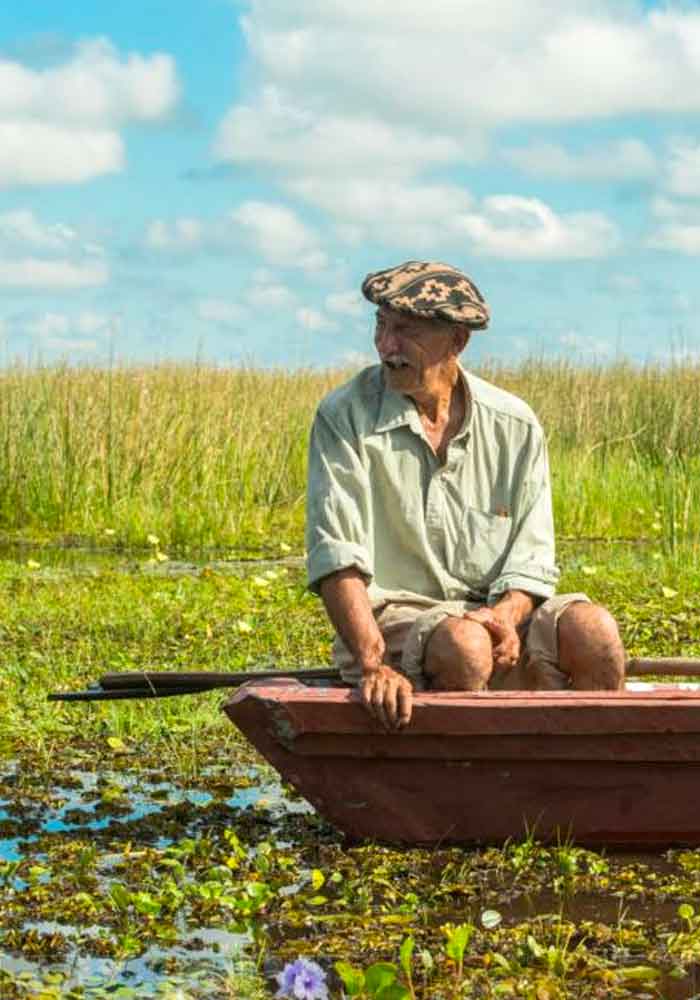 Local Knowledge & People
Visit the "isleños", the last people who lead a traditional living inside the wetland, who act as the local guides sharing their passion for living with nature.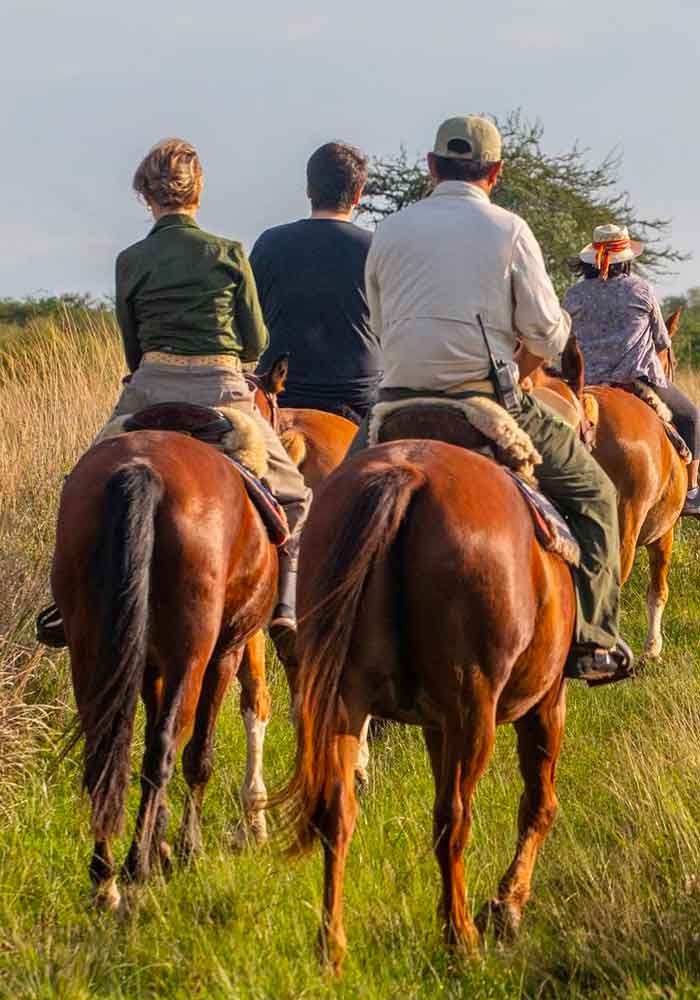 Horseback Riding
This is a great way to explore several areas around the lodge for spotting deer, capybara and other animals.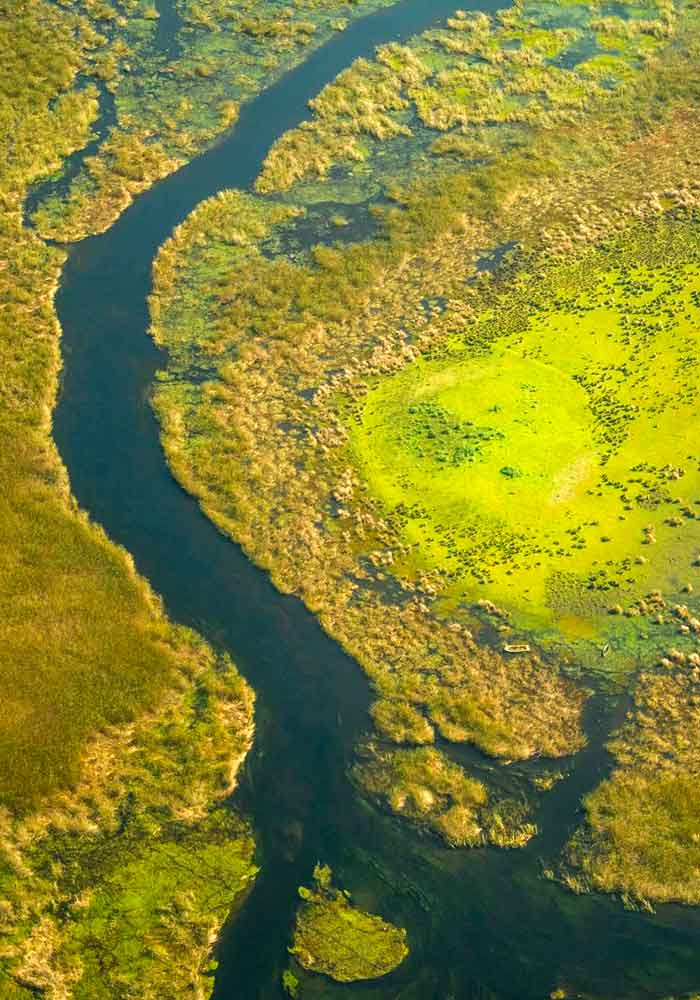 Wetlands Flight
The transfer flight transfer from Corrientes to Rincón del Socorro lodge will take you over the vast and spectacular wetlands, to appreciate the scale and nature of the National Park.
Day Trip to Island of San Alonso
San Alonso Biological Centre is set in the heart of the estuary and the Iberá National Park, located on a 25,000 acres sandy bank, on a real island in the heart of Iberá.
Estación Biológica Corrientes
Biological centre where the animals are kept in transition before their release into the wild at Iberá National Park.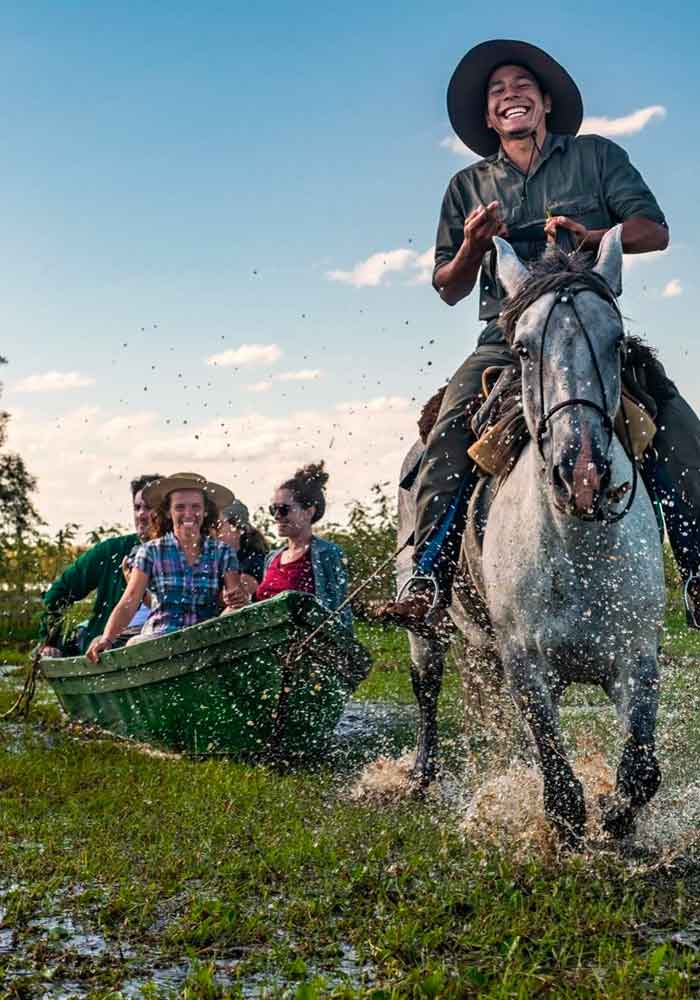 Canoe Horse-Riding
A special and fun way to experience Iberá is via canoe horse-riding, a unique method of transport in order to visit a traditional house made with the local grasses and eat a delicious home-cooked asado.
Nurture Nature. Nurture People.
"Look deep into nature and then you will understand everything better"
— ALBERT EINSTEIN —
This is a brand-new 8-day adventure to explore the magical natural landscapes of Iberá National Park, hosted by a nature conservation icon: Kristine Tompkins. In partnership with Journeys With Purpose, this is the first of the series "Seven Worlds, One Planet", a global tour-de-force championing the most ambitious, exciting and successful initiatives to protect and restore the diversity of nature and wildlife across our seven continents.
This immersive hosted experience with Kristine Tompkins, will take you on a magical journey across Iberá National Park, where you will also get first-hand experience on the rehabilitation and introduction of the animals back to the wild, from macaws to ant-eaters, giant otters and jaguars.
Read More
Argentina's Largest Park where Rewilding is More Than a Mission – It Is Reality
"Iberá is the entire story of conservation; it has everything. If you wrote a book about just one conservation project, this is the one to write about."

— KRISTINE TOMPKINS —
In South America, the creation of the Iberá National Park is one of the most successful conservation and rewilding projects of our lifetime. It has ensured the long-term conservation of 1.75 million acres and constitutes Argentina's largest park.
The fascinating natural beauty around the wetlands blue scenery and lush green landscapes are guaranteed to waken up your senses and leave you moved. Iberá was a place that was degraded by humans and it is a place that is being recovered by humans. Now the park is home to hundreds of bird species and mammals, in addition to the introduction of extinct species back to the area.
Read More
Meet Your Host
Kristine Tompkins
ENTREPRENEUR, ENVIRONMENTALIST, CONSERVATIONIST & PHILANTHROPIST
The former CEO of Patagonia, Inc., Kristine is renowned for her outstanding environmental leadership, and particularly for expanding public protected areas and engaging the business community with the conservation of pristine mountains, grasslands, forests, and wetlands in Chile and Argentina. Kristine has an unburnished energy and sense of urgency to inspire and accelerate new ways to work on behalf of nature.
Read More
BOOK NOW
Join some of the most accomplished people on the planet in the quest for enriching adventures, human connection and personal transformation.
Unique access to people and places that are often inaccessible, join our community of global travellers with a guestlist applicaiton.
Give back to local communities, supporting conservation causes or social initiatives that improve the quality of life for others.