Maldives
Up To 14 Adults + 9 Children
STARTING FROM
Upon
Request
per night (USD)
private group booking
REQUEST
Available for Private Bookings. Send a Request to Check Availability.
Questions? Contact us on Whatsapp
CHAT ON WHATSAPP
Inspiring a Lifetime of Rare Experiences
"Best Luxury Island Villa Resort Worldwide, Soneva Fushi – Winner"
— Hotel Of The Year Awards 2020 —
If 'luxury' is defined as a rarity, then in today's society that means peace, time and space. At Soneva Fushi, the unique experiences are in keeping with their interpretation of luxury. Real luxury is about feeling the sand between your toes or enjoying dinner under a canopy of a billion stars. It is about reconnecting with oneself and the natural world, and so the experiences Soneva Fushi creates for the guests are as far removed from the urban environment as possible. Soneva Fushi intends to provide real luxury and rare experiences that strike a chord in their guests' hearts.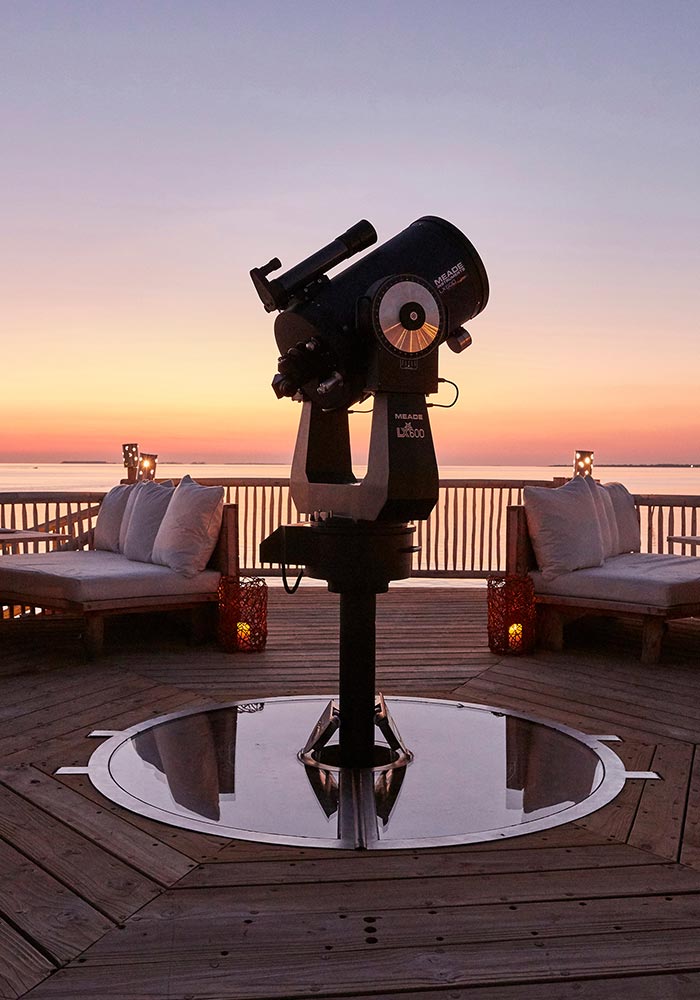 Astronomical Dinner Cruise
This incredible experience begins at sunset, featuring a four-course meal with wine pairings. The resident Astronomer will guide you through the wonders that stare back at you across the night sky, sharing secrets of the cosmos.
Private Sandbank Overnight Experience
Spend a romantic night camping under the Maldivian skies on your own private sandbank in a luxurious Bedouin-style tent, which even comes with its own bathroom. Make your way to a candlelit dinner, set up by personal attendants before they depart to allow you to experience the unspoiled island.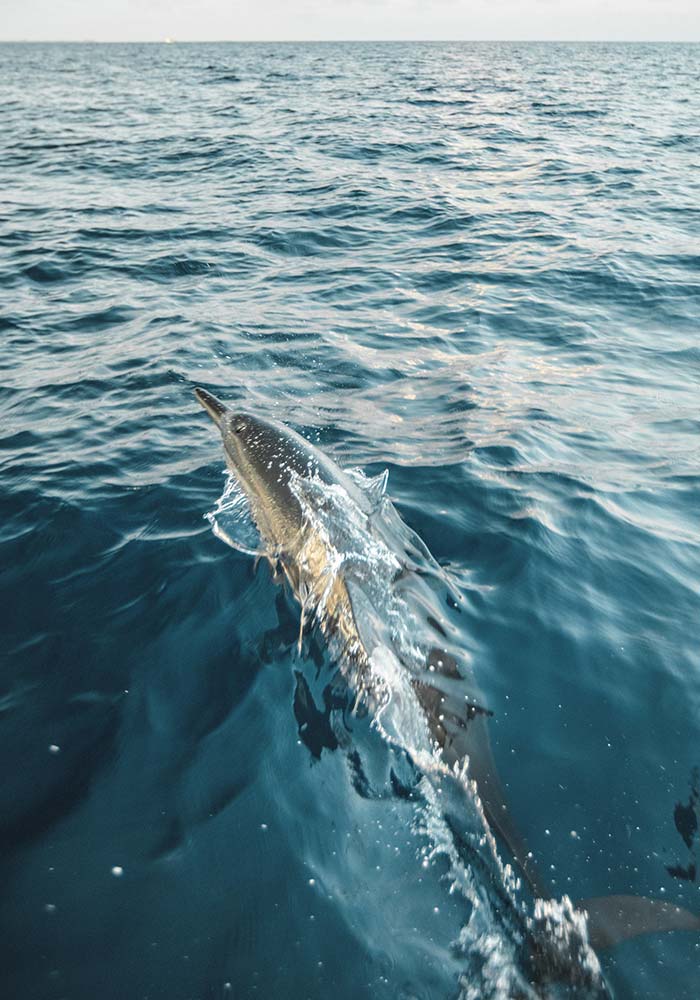 Sunset Dolphin Safari
Get ready for one of the most breath-taking experiences of your holiday; watching dozens of playful dolphins in the light of the setting sun. While you cruise into deeper waters, you will be served a selection of canapés and flute of Champagne.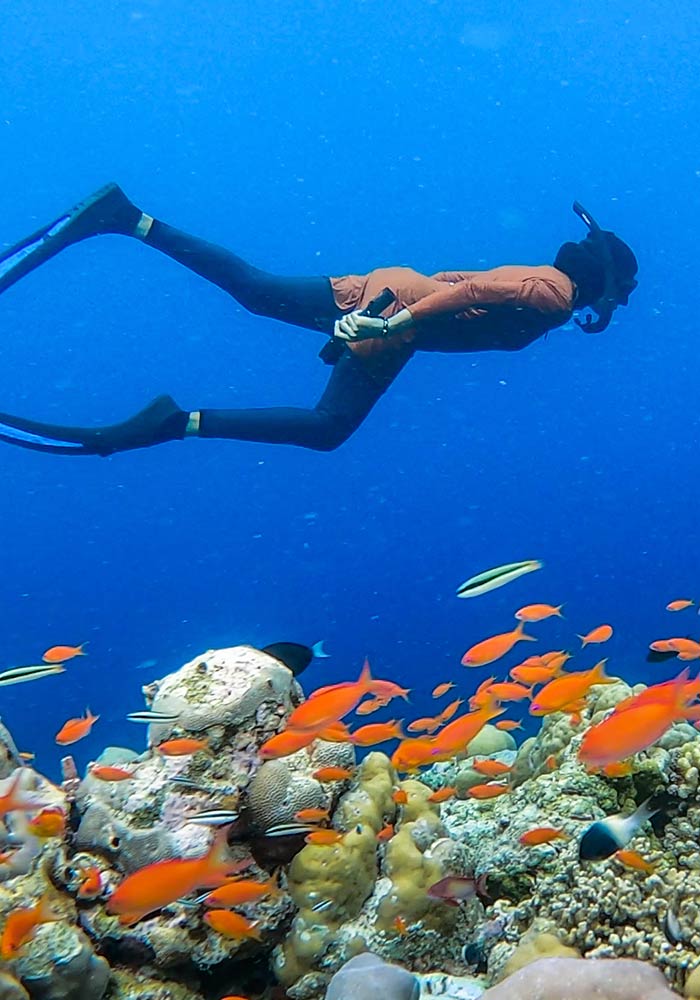 Guided Snorkelling with our Marine Biologist
Accompany the resident Marine Biologist on a guided snorkelling trip to one of the spectacular reefs found in the Baa Atoll. They will introduce you to the various species of marine life. House reef snorkelling and night snorkelling are also available.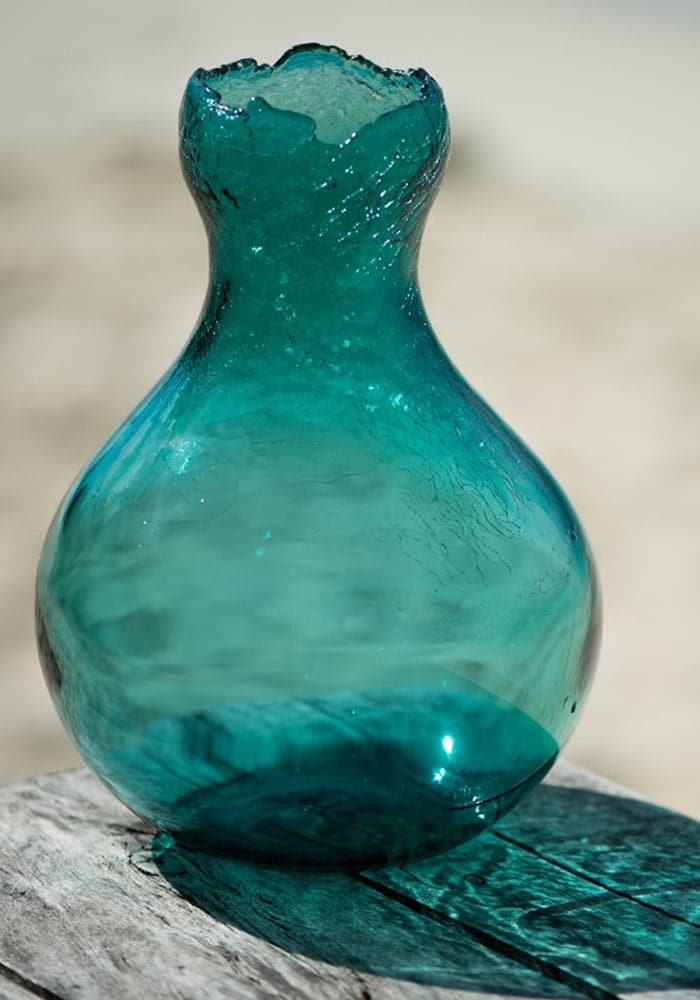 Glassblowing Class
Enjoy the truly rare experience of learning how to blow glass in Soneva Fushi's Art & Glass Studio. The experienced team of glass specialists work very closely with guests to create their very own masterpiece to take home. All works created at the Art & Glass Studio are made using recycled glass.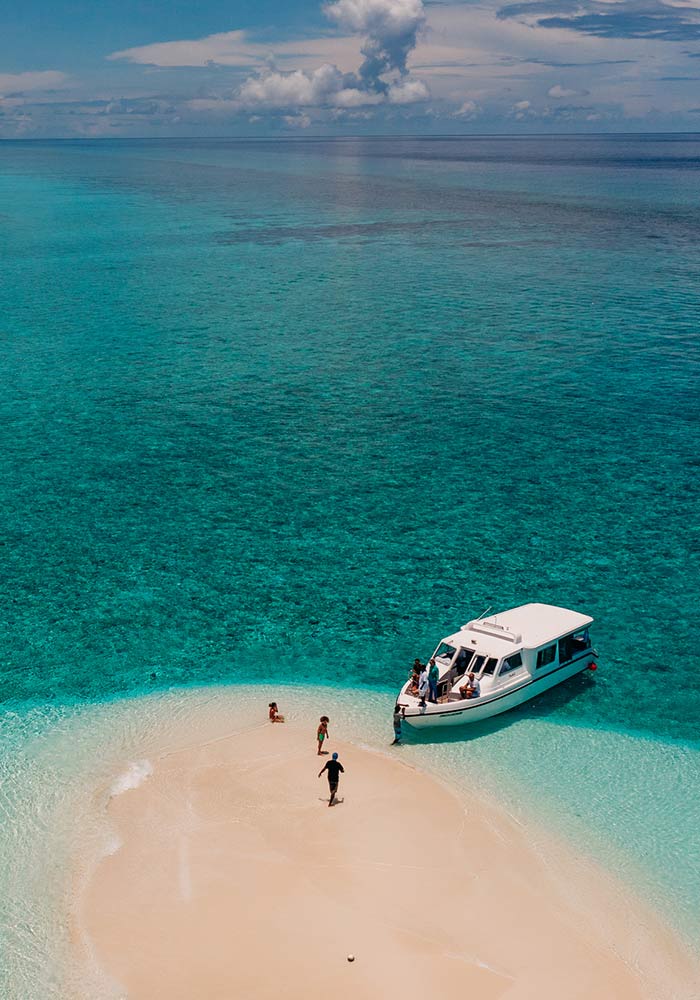 Island Hopping by Speedboat
Get a quick taste of two neighbouring islands and enjoy a special snorkelling trip to one of the reefs in Baa Atoll. Experience Maldivian islander culture and talk to some of the locals, Afterwards enjoy an authentic Maldivian lunch on Maalhos Island.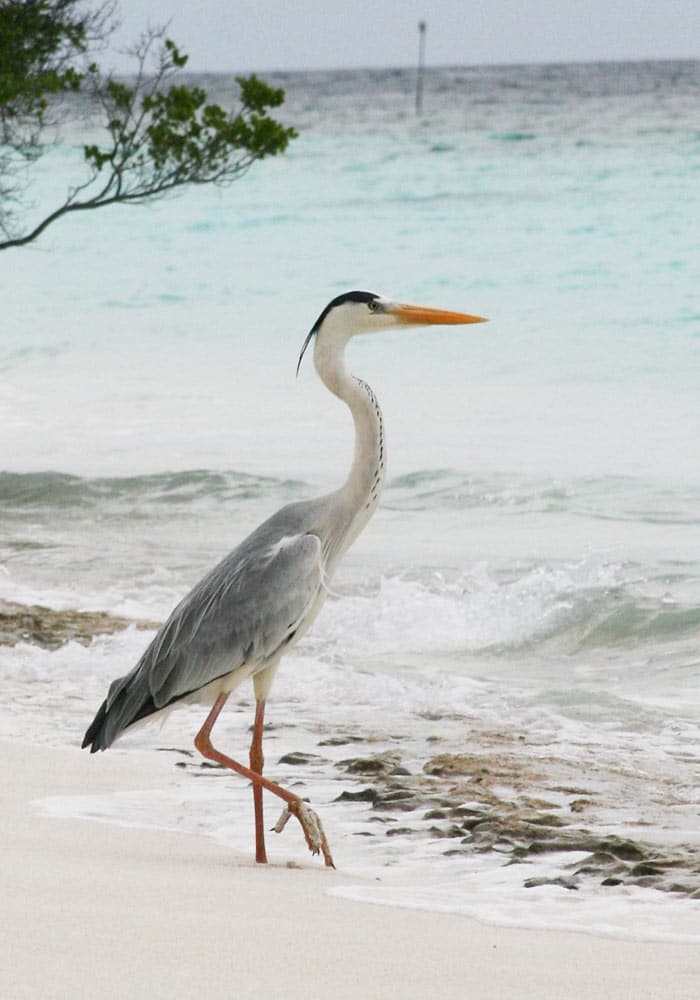 Wildlife Explorer

Discover the flora and fauna native to the island of Kunfunadhoo. Follow the expedition guide along island trails, learning tricks to spot wildlife, how to read animal tracks, the names of each plant and animal spotted in Dhivehi. At the end of the experience younger guests will earn a Wildlife Explorer badge at The Den.
Guardians of places that have existed long before them, Soneva's unique vision is inspired by nature's magnitude, mystery and enchanting beauty.
Founded on shared passions and masters of innovation, Soneva is a thriving community working hand in hand with the environment to craft beautiful, beyond bespoke experiences where discovery is a way of life.
With Soneva's expert hosts as your personal guide, they invite you to explore and delight in the possibility of each moment as time melts away and lose yourself in experiences that will stay with you for a lifetime.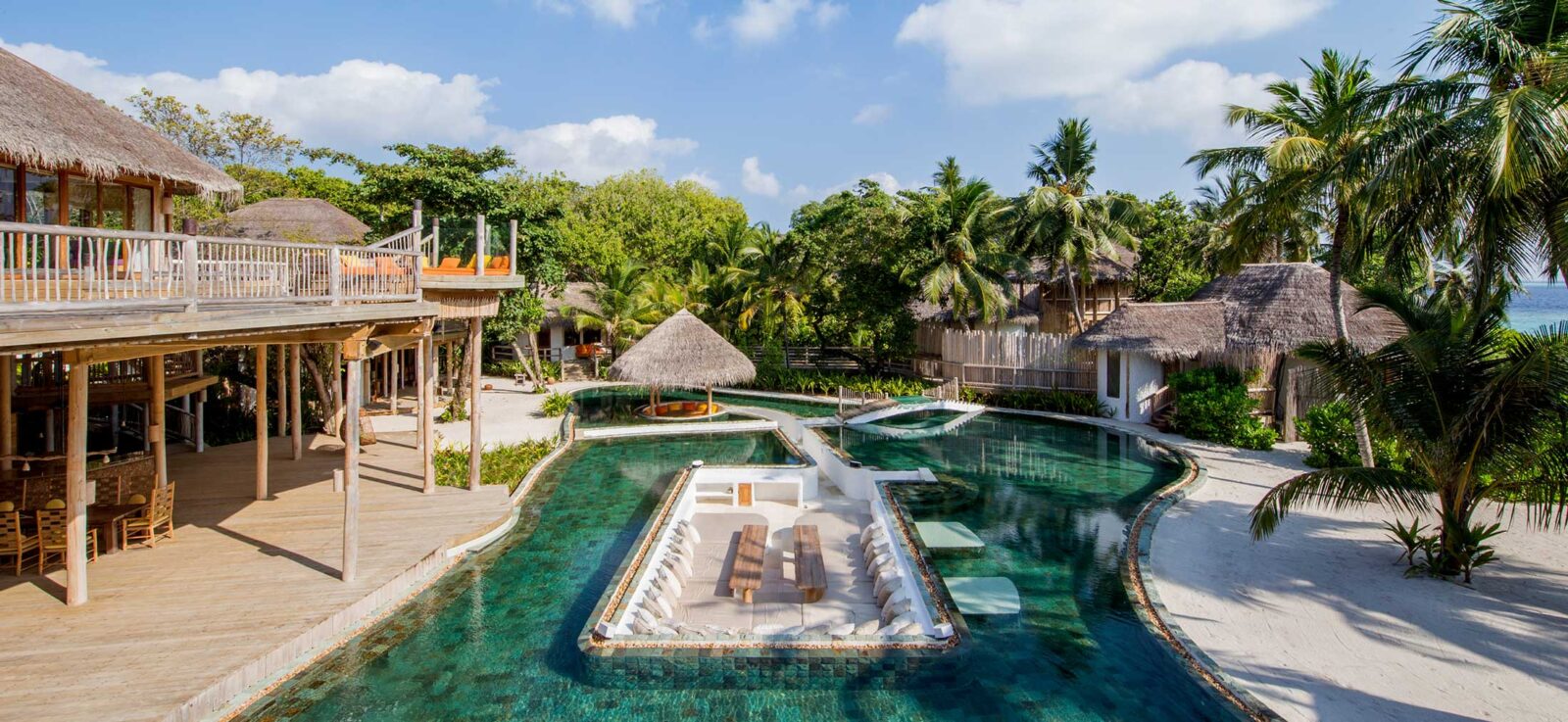 "my visit at Soneva Fushi was coming to a culinary paradise, with the best Maldivian dishes by Chef Sobah,
a unique Japanese sushi experience. Honestly I want to be back to that paradise, as soon as I could…"
— Tim Raue, 2* Michelin Chef —
Discover all the dining destinations and experiences at Soneva Fushi and on the untouched islands surrounding it. Sonevas' Hosts are happy to customise each experience for a special occasion, celebration or simply just because.
Home to the world's first fine-dining zipline experience and host to a star-studded line-up of Michelin-starred guest chefs, Soneva Fushi, the award-winning resort in the Maldives, has unveiled five new concepts as part of its ever-evolving dining offering. Ensuring authentic gastronomic experiences from world-leading chefs, the latest culinary concepts are set to ignite the senses in spectacular surroundings.
REQUEST
Soneva is built on the belief that a business must exist for a greater purpose than shareholder returns. The Soneva Foundation supports the development of projects that have a positive environmental, social and economic impact.
Wherever possible, the Soneva Foundation uses impact investing principles, seeking to recover outlays through carbon finance, which in turn will be fed back into projects to help extend the reach and benefits to more families.
You can buy carbon credits to fund Soneva's continued distribution of fuel-efficient cook stoves to improve the lives of families in Myanmar.
REQUEST
WHAT'S INCLUDED
Luxury Accommodation at Soneva Fushi's 9 Bedroom Villa
Airport Transfer
Breakfast



LIMITED AVAILABILITY
Private trips for groups can also be arranged.

INDOOR FACILITIES INCLUDE
Spa And Wellness Centre
Library
Fitness Centre
Billiards
Table Tennis
OUTDOOR FACILITIES INCLUDE
Swimming Pool
Picnic Area
Beachfront
Sun Terrace
Private Beach Area
BBQ Facilities
Tennis Court
Garden
Join some of the most accomplished people on the planet in the quest for enriching adventures, human connection and personal transformation.
Unique access to people and places that are often inaccessible, join our community of global travellers with a guestlist applicaiton.
Give back to local communities, supporting conservation causes or social initiatives that improve the quality of life for others.