HOSTED EXPERIENCES by SATOPIA TRAVEL
A Spring Gastronomy Experience hosted by Marco Pierre White in the Scottish Highlands
Join this 4-day culinary adventure experience surrounded by the spectacular landscape of the Scottish Highlands, in the company of the Godfather of modern British cooking, Chef Marco Pierre White at Alladale Wilderness Reserve.
STARTING FROM
£6,910



Small group experience / Limited to 14 guests
Hosted Experience with Marco Pierre White at Alladale Wilderness Reserve in Scotland
New dates coming soon (4 days / 3 nights)
Join world-renowned chef Marco Pierre White on an exclusive culinary travel experience to Alladale Wilderness Reserve, in the heart of the Scottish Highlands. This is an intimate travel experience with one of the best chefs to come out of the UK. Spend time sampling chef Marco's great British menus and share his passion for gastronomy and knowledge during a two-part masterclass in the kitchen. This edition of the Four Seasons at Alladale is a shared experience designed to bring people together with a focus on the love of food and connecting with nature.
STARTING FROM
£6,910
per person (GBP) inc. VAT, based on 2 people sharing
Small group experience / Limited to 14 guests
JOIN GUESTLIST
A Spring Feast in the Heart of the Scottish Highlands
"Mother Nature is the true artist and our job as cooks is to allow her to shine."
— Marco Pierre White —

Your host Chef Marco Pierre White brings the very best seasonal and locally sourced ingredients from the Highlands on this wonderful gourmet travel experience with an exclusively designed 4-day menu that is a tribute to the best from local Scottish farmers. The menu is aligned with Alladale's approach of Farm-to-Table and by only working with small local and family run suppliers to source the best of seasonal produce, wild venison and fresh trout from the local rivers and lochs. The menu comprises the best of British, designed exclusively by Marco Pierre White as your host on this experience in the Highlands.
Enjoy the wonderful dining experience surrounded by the stunning natural landscapes of the wilderness reserve, a 23,000-acre exclusively for the small group on the trip. Your itinerary includes many activities in the outdoors such as guided 4×4 tour of the reserve with the rangers, guided hikes, clay-pigeon shooting and mountain biking. Back at the lodge indulge in a massage or a beauty treatment at the spa, plus the use of the fitness centre.
Every evening, enjoy the entertainment around the fire while connecting with your wonderful host and other guests. The evenings include Celtic band, bagpipes and pianist together with whisky tasting around roaring fires. Your itinerary includes exclusive use of Alladale's Wilderness Reserve to witness the great conservation work and rewilding programme in the Highlands, part of Alladale's commitments to sustainability. In 2019 Alladale Wilderness Reserve has been selected as Europe's most eco-friendly boutique hotel in recognition to the solid work they do around their sustainability programme.
VIEW FULL ITINERARY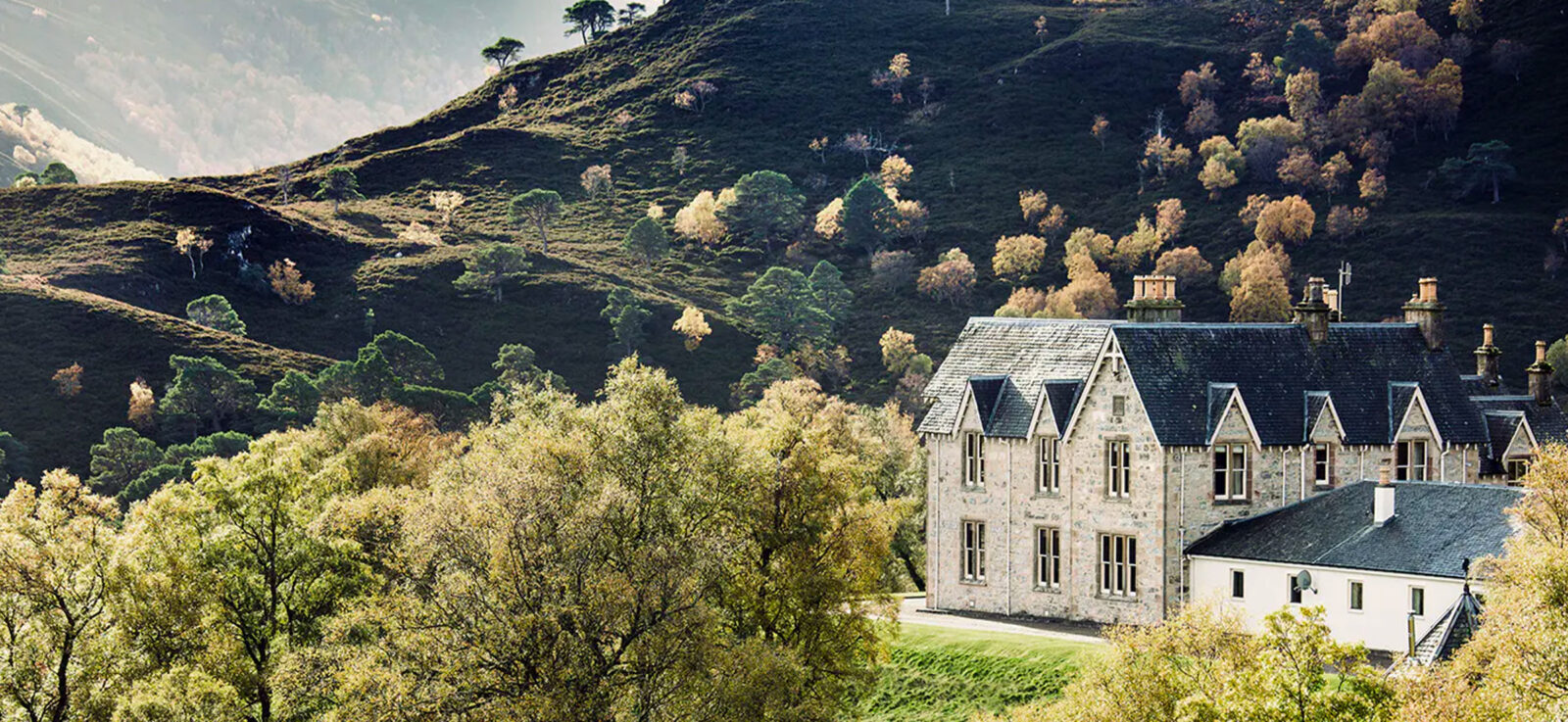 Slow Down, Step Back and Connect with Nature
A MAJESTIC SPRING EXPERIENCE IN LUXURIOUS COMFORT
As the weather warms and the days grow longer, the Scottish Highlands start to transform and burst with new life and vibrant colours. Enjoy the most of the sunshine hours, with beautiful landscapes covered by Scottish wildflowers in full bloom over hills and glens, and green lush woodlands carpeted with bright fresh grasses.
There are occasions when you can experience all four seasons in one day, but that is all part of the fun. On bright dewy mornings you can expect brilliant blue skies and warm sunny glows, that highlight the last of the spring snow as it lingers on the mountain tops around Alladale. The light on offer at this time of the year is a photographer's dream, particularly in the early evening as the sun begins to set. Even on foggy mornings and dramatic rainy days, the Highlands still manage to turn on the charm with displays of magnificent rainbows or atmospheric clouds.
Taking the time to slow down and step back from the rush of everyday life is hugely beneficial for our well-being. Find yourself at one with nature while walking along trails and paths leading to stunning natural sights around Alladale Wilderness Reserve, wrapped in nature and mindful of a wonderful feast back at the lodge, prepared by your host master-chef.
Meet Your Host
Marco Pierre White
WORLD-RENOWNED CHEF, AUTHOR & RESTAURATEUR
Marco Pierre White made history when at the age of 33 he became the first British chef to win three Michelin stars and also the world's youngest ever chef to achieve Michelin's top accolade.
Born in Leeds in 1961 to an English Father and an Italian mother, Marco Pierre White started his cooking career at a young age at the Hotel St George in Harrogate and gaining early experience at the Box Tree in Ilkley, Yorkshire before moving to London. Arriving in London at 16 with "£7, a box of books and a bag of clothes" White began his classical training as a commis under the legendary chefs Albert Roux and Michel Roux at the famous "Le Gavroche", the first restaurant in the UK to receive a Michelin star back in 1974.
Chef White reached the peak of his cooking career when he opened and headed Harvey's in London. With a group of talented kitchen staff, White embarked on a journey that spun magic on the plate during his stint in the kitchen. In 1988, White earned the first of his three Michelin stars to become a renowned chef worldwide. Retaining that star in 1989, Marco earned his second star in 1990, catapulting his fame to greater heights. White then moved to Restaurant Marco Pierre White at Forte's Hyde Park hotel in 1992 where he won his third Michelin star in 1995.
By 1999 Marco had achieved everything a chef would endeavour to become and announced his retirement from the kitchen at the age of 38. He cooked his final meal for a paying customer at the Oak Room after returning his three Michelin stars. Since quitting the kitchen, White became a restaurateur and has built up a British Restaurant empire consisting of both top-tier and mass-market restaurants. He is also a noted author with several published books and a TV personality where he presented many British and International TV cooking-shows and competitions. White is also known to have kick-started the careers of many younger chefs who worked in his kitchens, to name a few: Gordon Ramsay, Heston Blumenthal and Jason Atherton.
STARTING FROM
£6,910
per person (GBP) Incl. VAT
Small group experience / Limited to 14 guests
New dates coming soon
WHAT'S INCLUDED
Luxury Accommodation
(Alladale Main House)
Airport Transfer (Inverness)
Full-board
Welcome Reception
Menu by Marco Pierre White
2 x Masterclass with Chef White
4×4 Reserve Tour
Hiking With Rangers
Mountain Bikes
Clay Pigeon Shooting
Whisky Tasting
Scottish Bagpipes
Celtic Band
Massage/Sauna/Gym


LIMITED AVAILABILITY
Private trips for groups can also be arranged.
• BOOK WITH CONFIDENCE
• EXPERT TRAVEL ADVISORS
• EXPERIENCED LOCAL GUIDES
• 24HR CONCIERGE
• PLEDGE 1%

A percentage of every booking goes to our Foundation, supporting local communities, education projects & environmental issues with every trip you take.
When you arrive at this stunning and wild 100 square kilometres wilderness reserve, you're warmly welcomed and made to feel right at home!
Located deep in the heart of the Scottish Highland, and set against rugged hills at the country's most northerly ancient Caledonian pine forest, lies the Alladale Lodge. This beautiful Victorian manor, refurbished by Laura Ashley is comfortable and spacious. Its traditional design makes it a true Scottish home away from home and the ultimate private getaway.
Alladale has been certified as Europe's most eco-friendly hotel, awarded by the Boutique Hotels Award in Nov. 2019 for their outstanding conservation work and restoration of wildlife in the Scottish Highlands.
Alladale Lodge Overview:
Luxury accommodation 10-14 people (Double/Twin/Single)
All guest rooms have en-suite shower/bathroom
Daily housekeeping service
Fully catered & serviced with private chef & staff
Free satellite WIFI
Boardroom with latest AV equipment
Fully equipped gym
In-house sauna
Snooker room
Drawing room
Dining room
TV room
Day 1
Guests arrive & check-in
Reception drinks & meet your host Marco Pierre White
Dinner hosted by Marco
Entertainment: Scottish Bagpipes
Remainder of the evening to relax and connect
Day 2
Breakfast
Morning Experience: Exploring the reserve 4×4 tour
Lunch: Outdoor, catered on the reserve
Early Evening: Masterclass with Marco
Dinner
Whisky Tasting Experience
Entertainment: Pianist
Remainder of the evening to relax and connect
Day 3
Breakfast
Morning Experiences: Hiking / Clay-Pigeon Shooting / Bikes / Massage
Lunch in the main house
Afternoon Experiences: Hiking / Clay-Pigeon Shooting / Bikes / Massage / River swim
Early Evening: Masterclass with Marco
Dinner
Entertainment: Celtic band
Remainder of the evening to relax and connect
Day 4
Guest check-out (10:00 AM)
Breakfast
Guests relax in the lodge ready for departure to Inverness airport
VIEW FULL ITINERARY
Experience the wilderness at Alladale reserve with exciting adventures during your stay. The stay is inclusive of all the following experiences:
4×4 RANGER GUIDED TOURS Experience Alladale's vastness & beauty. Alladale is famous for its 'rewilding', which involves reforestation and reintroduction of plant and animal species.
GUIDED HIKES Explore 23,000 acres of Highland beauty with experienced rangers. At Alladale, you can go on a different hike every day, as the reserve has plenty to discover.
MOUNTAIN BIKING Enjoy many miles of stunning Highland scenery on a Mantra Pro mountain bike.
CLAY PIGEON SHOOTING A fun outdoor activity where you will be taken to the special shooting area, guided by the rangers through the process of shooting your clays.
WHISKY TASTING You cannot leave Scotland without tasting some of its best whisky. Sit back and enjoy a great whisky experience in front of the roaring fires and learn about this fascinating drink in its homeland.
MASSAGES A holiday at Alladale is the perfect time to relax and treat yourself to something extra. Enjoy a lovely massage, relax at the in-house sauna or experience the fully equipped gym at your disposal.
SCOTTISH ENTERTAINMENT Enjoy a variety of local entertainment during your stay with Scottish piper, Celtic band, Pianist, in addition to the games and snooker room.
Spending time in nature is integral to wellbeing, mental health and physical wellness.
The European Nature Trust's mission is to connect people to nature. The trust is dedicated to the protection of Europe's remaining wild places, and restoring those already lost.
This experience is an opportunity to explore the wonderful conservation work done in Alladale in collaboration with the European Nature Trust, restoring the Highland ecosystem to its former glory and reintroducing original plants and wildlife species.
The conservation and rewilding initiatives at Alladale are a long term partnership with the European Nature Trust, where 7% of the estate revenue is transferred to the trust, contributing directly to a variety of conservation and restoration efforts throughout Europe.