Maldives
Up To 24 Adults + 10 Children
STARTING FROM
Upon
Request
per night (USD)
private group booking
REQUEST
Available for Private Bookings. Send a Request to Check Availability.
Questions? Contact us on Whatsapp
CHAT ON WHATSAPP
Guardians of places that have existed long before them, Soneva's unique vision is inspired by nature's magnitude, mystery and enchanting beauty.
Founded on shared passions and masters of innovation, Soneva is a thriving community working hand in hand with the environment to craft beautiful, beyond bespoke experiences where discovery is a way of life.
With Soneva's expert hosts as your personal guide, they invite you to explore and delight in the possibility of each moment as time melts away and lose yourself in experiences that will stay with you for a lifetime.
So Starstruck Astronomy Dinner
Come to the state-of-the-art, James Bond-inspired Observatory for star-lit dining experience. Sit back and enjoy great food and drink as Soneva's in-house Astronomer takes you through a journey of the night sky and beyond. Using a 16" telescope that rises from the ground, there is plenty to see, talk about and learn.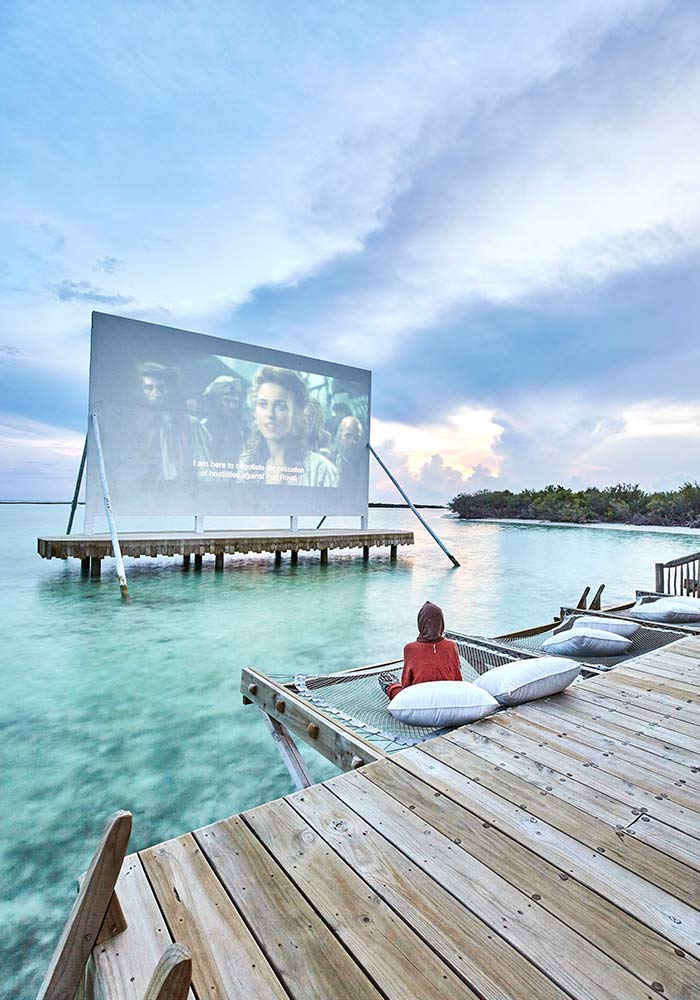 Cinema Paradiso
Watch classic and contemporary favourites beneath the stars or take your Cinema Paradiso experience to new heights, while Sonevas' chefs craft a menu of comfort food and nibbles. Refreshing cocktails, complimentary popcorn and ice creams can also be arranged.
So Engaging
So Engaging is Soneva chef's table, which offers a mystery menu for five very special guests. Get a front row seat to the action, and converse with the chef.
Private Sustainable Fishing with Jawa
Meet fourth generation fisherman, Jawa, and discover the techniques used by Maldivian fishermen to catch their livelihoods. Set sail for the spot of the day in a traditional wooden dhoni and choose to learn either bottom line fishing or trawling. The chefs at Soneva Jani will prepare your catch of the day for dinner.
Kuredu Private Guided Snorkelling
Discover the thriving corals of Kureddu, also known as Turtle Reef, on a fascinating private snorkelling tour with Soneva's resident Marine Biologist. This living ecosystem is home to a vibrant array of tropical species, including shoals of colourful reef fish and rare sea turtles. House reef snorkelling and night snorkelling are also available.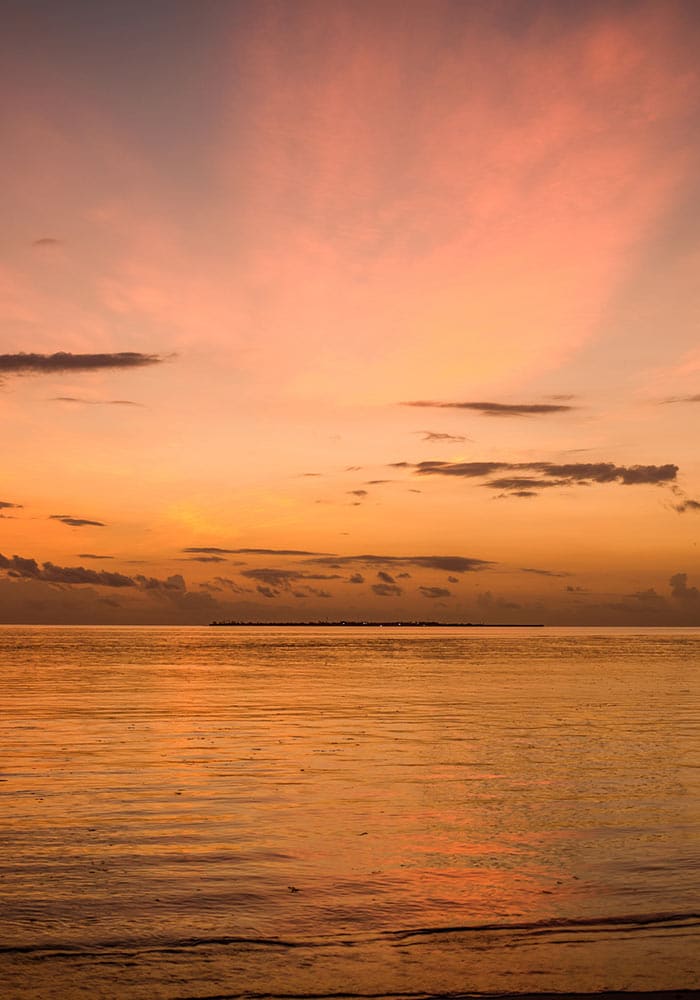 Traditional Dhoni Cruise
Set sail on a traditional dhoni. These curved vessels are unique to the Maldives – handcrafted from coconut palm timber, for centuries the island nation has used them for fishing and trade. Sail at sunrise, when the calm seas are infused with the rosy glow of dawn, or into the vibrant sunset as dolphins play in the waves.
Inspiring a Lifetime of Rare Experiences
"Best Romantic Hotel in Indian Ocean, Soneva Jani – Winner"
— 2021 HAUTE GRANDEUR GLOBAL AWARDS —
If 'luxury' is defined as a rarity, then in today's society that means peace, time and space. At Soneva, the unique experiences are in keeping with their interpretation of luxury. Real luxury is about feeling the sand between your toes or enjoying dinner under a canopy of a billion stars. It is about reconnecting with oneself and the natural world, and so the experiences Soneva creates for the guests are as far removed from the urban environment as possible. Soneva intends to provide real luxury and rare experiences that strike a chord in their guests' hearts.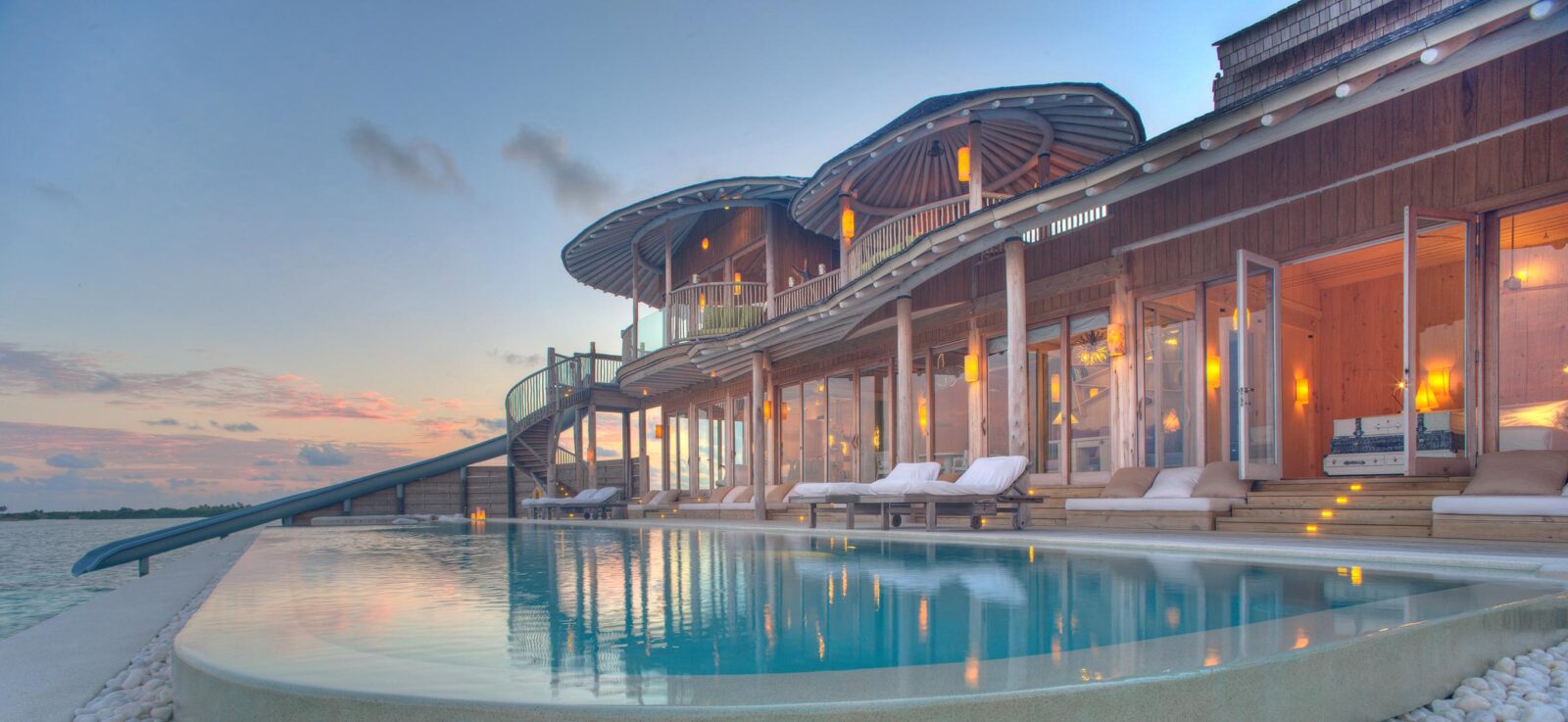 "The humbly named Crab Shack offers some of the world's very best crustaceans, such as
Sri Lankan mud,Kamchatka or Alaskan crabs, all certified by the Marine Stewardship Council."
— CHRIS DWYER, CNN TRAVEL —
Discover all the dining destinations and experiences at Soneva Jani and on the untouched islands surrounding it. Sonevas' Hosts are happy to customise each experience for a special occasion, celebration or simply just because.
Surrounded by the majesty of nature, Soneva Soul's three-level Island Spa complex at Soneva Jani is linked by raised walkways that wind among the trees. Complementing the existing Over-water Spa at The Gathering, it includes open-air treatment rooms, consultation suites, integrative medicine rooms, a state-of-the-art gym and juice bar. A yoga pavilion and meditation platform set high above the tree line, offering 360-degree views across the turquoise private lagoon.
CELEBRITY CHEF, AUTHOR & RESTAURATEUR
Soneva is built on the belief that a business must exist for a greater purpose than shareholder returns. The Soneva Foundation supports the development of projects that have a positive environmental, social and economic impact.
Wherever possible, the Soneva Foundation uses impact investing principles, seeking to recover outlays through carbon finance, which in turn will be fed back into projects to help extend the reach and benefits to more families.
You can buy carbon credits to fund Soneva's continued distribution of fuel-efficient cook stoves to improve the lives of families in Myanmar.
REQUEST
WHAT'S INCLUDED
Luxury Accommodation at Soneva Jani
Airport Transfer
Breakfast



LIMITED AVAILABILITY
Private trips for groups can also be arranged.

INDOOR FACILITIES INCLUDE
Spa And Wellness Centre
Library
Fitness Centre
Indoor Swimming Pool
Billiards
OUTDOOR FACILITIES INCLUDE
Swimming Pool
Picnic Area
Beachfront
Sun Terrace
Private Beach Area
BBQ Facilities
Tennis Court
Cycling
Garden
Join some of the most accomplished people on the planet in the quest for enriching adventures, human connection and personal transformation.
Unique access to people and places that are often inaccessible, join our community of global travellers with a guestlist applicaiton.
Give back to local communities, supporting conservation causes or social initiatives that improve the quality of life for others.