STARTING FROM
Upon
Request
per night (USD)
private group booking
REQUEST
Available for Private Bookings. Send a Request to Check Availability.
Questions? Contact us on Whatsapp
CHAT ON WHATSAPP
A Luxurious Tropical Hideaway
One of the world's largest private island resorts, COMO Laucala Island is tropical hideaway set amongst the natural beauty of Fiji. Just 25 luxury villas are hidden away in this natural paradise, ensuring privacy, tranquillity, and a true immersion in nature. A range of activities have been designed to help guests explore the island's culture and natural surroundings, whilst the soothing spa offers indulgent downtime for those looking to relax both body and mind.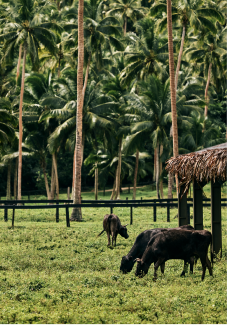 Island Farm Tour
Tours of Como Laucala Island's farm, herb garden, hydroponic garden and orchard will give guests a fuller understanding of the resort's farm-to-table philosophy. Visits are often led by the Executive Chef himself, Daniel Boller, and can be personalised to guests' interests, whether you'd like to spend more time at the beehives tasting the island's honey, foraging for banana, papaya or cassava, or picking vanilla for the restaurant's indulgent desserts.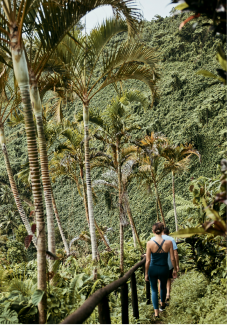 Tavoro Falls Hike
Head to the neighbouring Taveuni Island to immerse yourself in the natural beauty of the Bouma National Park with a three-and-a-half-hour hike through the lush forest. You'll also pass three stunning Tavoro waterfalls, have a chance to cool off with a dip in a natural pool, and stop for a picnic break to admire the surroundings. There are also plenty of trails to do around COMO Laucala Island.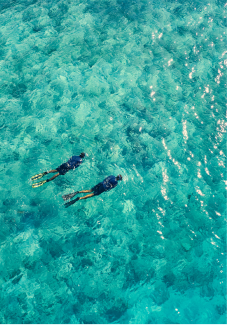 Watersports
The resort has plenty of activities to choose from if you want to get out onto the island's crystal-clear waters. Take things at a more leisurely place with canoeing, kayaking, or stand up paddle boarding, or if you're looking for more of a thrill try one of the motorised water sports on offer such as jet skiing, ski biscuit riding, or water skiing.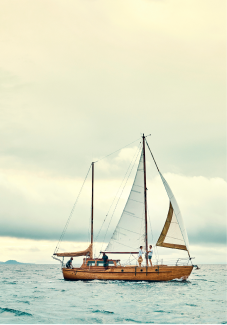 Water Adventures
COMO Laucala Island has a fleet of boats that can be chartered for a variety of excursions, including inner reef sailing and exploring the outer reef sites, where you probably won't encounter another dive boat. Sea fishing expeditions are suitable for both beginners and more experienced fishers, who might be hoping to land one of Fiji's famous yellow fin tunas.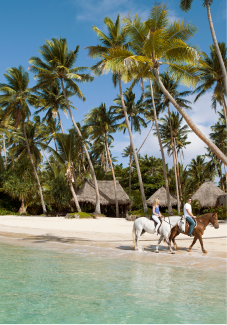 Horseriding
Whether it's your first time on a horse or you're an experienced rider, horse riding at Como Laucala offers an unforgettable experience. Head out on a hack across the island, passing through coconut plantations and across the beaches to take a leisurely ride into the ocean waters. The resort's resident 'Horse Whisperer can also provide lessons in an enclosed riding arena.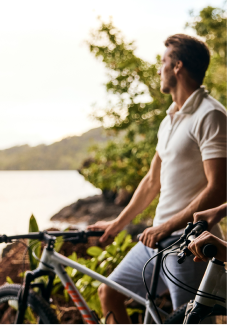 Mountain Biking
Mountain biking across the island offers an adventure for all the family. The mixed mountain biking trail follows the stunning coastline and takes guests up and downhill though lush forest, grassy pathways, and beautiful beaches. The guided route can be done in your own time and you can speed along for a challenge or take it slow and make time for a picnic lunch with spectacular scenery.
Immerse Yourself In The Island's Culture
Explore the island's culture through classes centred around arts, crafts, cooking and more. Guests can try their hand at traditional Fijian handicrafts like coconut leaf weaving, learn useful island survival skills such as how to find water in the bush, take a cooking class with the chef, and use the island's flora and fauna to create natural soaps and candles.
Sustainability is at the heart of the resort's fresh and healthy cuisine. Executive chef Dan Boller takes a farm-to-table approach and grows his own produce in the resort's vegetable and herb gardens and sources his meat from the Wagyu and Angus cattle roaming on site. Guests have a variety of bars and restaurants to choose from, each set among the natural beauty of the island, from the Beach Bar sitting right next to the water for enjoying freshly caught fish to Seagrass Lounge and Restaurant, a treetop dining area with panoramic views.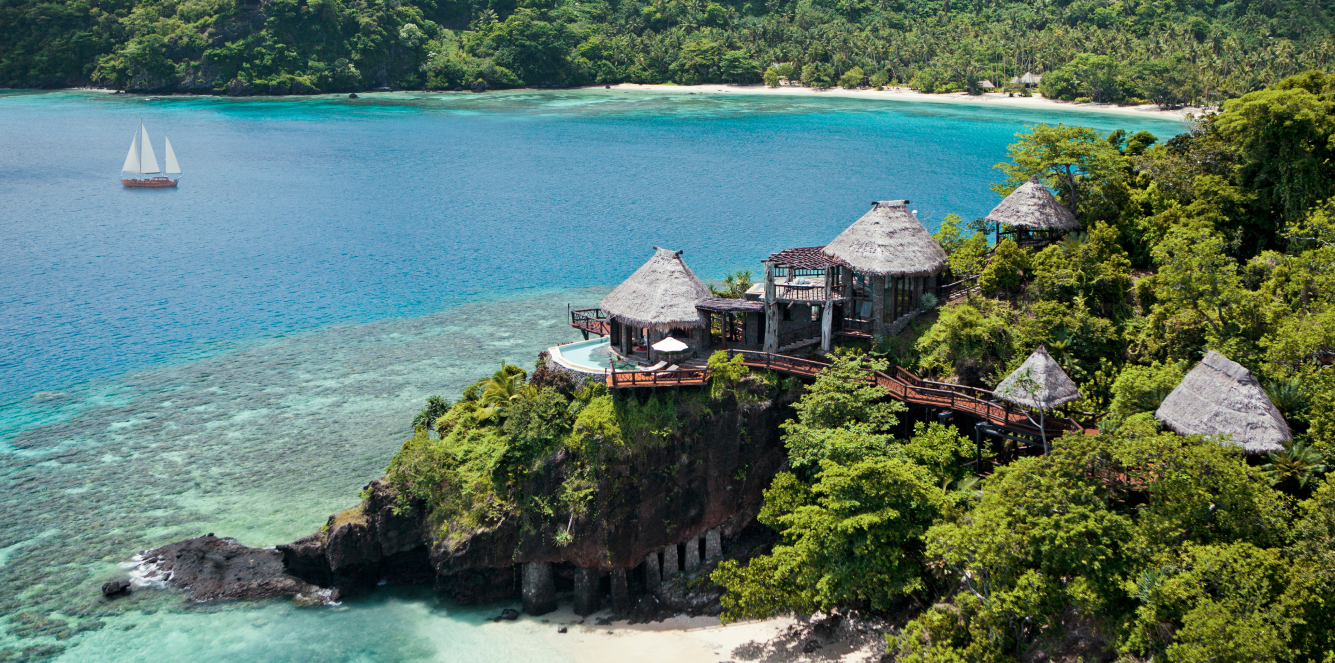 The island's idyllic setting makes it the perfect place to fully switch off and relax, especially in the tranquil setting of the COMO Shambhala Retreat. The wellness space immerses guests in nature with an outdoor yoga pavilion and infinity pool shaded by leafy palms. Post-workout, indulge with a facial or a traditional Fijian Massage to relax and revive both body and mind.
REQUEST
Luxury Private Residences Surrounded By Nature
COMO Laucala Island offers guests the choice of 25 Residences hidden away in spectacular natural settings, from private homes sitting on white sandy beaches or suspended over a lagoon to hillside villas nestled amongst the lush forest. To complement the island's beauty, each property has been inspired by traditional Fijian design and comes with a private pool, spacious sundeck and outdoor bath to immerse guests in nature.
REQUEST
A Welcome Como Shambhala Massage
Full Board In Laucala Island's Five Restaurants
All House Wines, Champagnes And Non-Specialty Spirits
Private Como Lounge Access At Nadi Airport
A 'tau' (Fijian For "Friend") Butler For Every Residence
24-Hour Concierge Services
In-Residence Dining From 6.00am To 10.00pm
Laundry, Pressing And Housekeeping Services
Resort-Wide Wi-Fi Access
Babysitting Services
24-Hour Medical Services (Clinic And Doctor)
Golf
Diving, Snorkelling, Watersports And Cruising
Horseback Riding
Catamaran And Charter Sailing
Watersports
Tennis
Mountain Biking
Nature Walks And Scenic Hikes
Yoga Classes
FACILITIES INCLUDE
INDOOR FACILITIES
Luxury Accommodation In Villas And Residences
Restaurants And Bars Serving A Range Of Cuisines
Spa With A Variety Of Treatments And Therapies
Gym And Fitness Center
Library
Entertainment Room With Games And Movies
Conference Room And Business Center
OUTDOOR FACILITIES
Private Beach With Water Sports Equipment
Infinity Pool And Other Swimming Pools
Bathtubs
Daybeds And Sun Loungers
Outdoor Dining 'bures' (Huts) And Lounges
Golf Course
Tennis Courts
Equestrian Center
Farm With Vegetable And Herb Gardens, Cattle, Pigs, And Chickens
Hiking And Biking Trails
Yoga Pavilion
Join some of the most accomplished people on the planet in the quest for enriching adventures, human connection and personal transformation.
Unique access to people and places that are often inaccessible, join our community of global travellers with a guestlist applicaiton.
Give back to local communities, supporting conservation causes or social initiatives that improve the quality of life for others.