Iceland
Up to 32 guests
NOV – FEB
NORTHERN LIGHTS SEASON
MAR - JUN
SPRING HELI-SKIING SEASON
JUN - OCT
SUMMER & FALL SEASON
STARTING FROM
Upon
Request
per night (USD)
private group booking
REQUEST
Available for Private Bookings. Send a Request to Check Availability.
Questions? Contact us on Whatsapp
CHAT ON WHATSAPP
A Secret Hideaway in Iceland
With its stunning location, impressive gastronomy, and a range of once-in-a-lifetime activities, it's easy to see why Deplar Farm was named one of 2023's "Best Hotels in the World" on Condé Nast Traveler's Gold List. Set on a former sheep farm on the Troll Peninsula and surrounded by untouched landscape, Deplar makes the perfect retreat for those looking for total seclusion. The black timber exterior and unique moss-covered rooftop blend into the natural backdrop of the Fljót Valley and hide cosy interiors which cocoon guests from the elements. Each of the 13 rooms are dressed with textured walls, Moroccan wools, and sheepskin throws whilst floor-to-ceiling windows bring the outside in with spectacular views. A luxurious spa, outdoor geothermal pool, and a fantastic gastronomic restaurant encourage guests to take time to relax and rejuvenate. If you do venture outside, the Fljót Valley offers up a range of year-round activities for adventure seekers looking for an unforgettable Icelandic experience.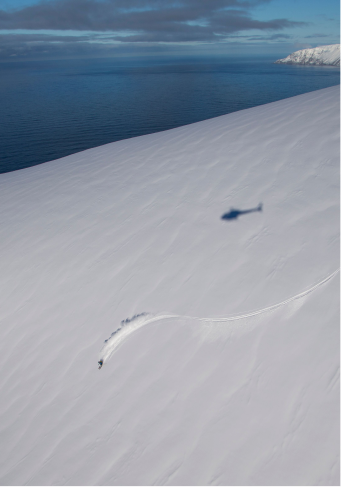 Helii-skiing
The beautiful and varied terrain of the Troll Peninsula makes it a perfect location for heli-skiing. Between March and May expert guides will take you out to explore slopes and can adapt the itinerary to suit both intermediate and accomplished skiers who are looking for more adventure.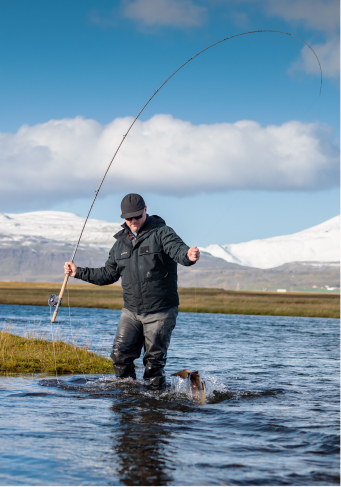 Fly-Fishing
If you've always dreamt of landing an Atlantic Salmon, head to Northern Iceland between July and September. Deplar's expert guides have access to some of the most exclusive salmon rivers in Iceland and can design bespoke itineraries during the summer months for the ultimate angling experience.
Northern Lights
Deplar Farm's remote setting and low levels of light pollution makes it an ideal spot for trying to catch the sometimes-elusive Northern Lights, or "Aurora Borealis". Travelling between September to mid-April when the days are long and dark maximises your chances of seeing this incredible natural phenomenon, and at Deplar Farm you can enjoy the show whilst relaxing, cocktail in hand, in the hotel's geothermal heated pool.
Horseback Riding
Getting on the back of one of Iceland's famous purebred horses, which were brought to the country by Viking settlers during the 9th century, is a fantastic way to explore the country's beautiful landscapes.
Whitewater River Rafting
When the weather heats up in summer, get out on Iceland's waters for an adventure-filled day. The rapid waters of the East Glacial River have made it one of Iceland's premier whitewater rafting destinations for those seeking an adrenaline kick, whilst the calmer West Glacial River will suit families and those looking for a more leisurely ride.
Whale Watching
The stunning Eyjafjörður fjord is an ideal spot for whale watching, one of the most unforgettable experiences in Iceland. Guided boat tours head out all year round for spotting white beaked dolphins and humpback, blue, and orca whales, and can also be booked privately.
Drangey Tour
This unique tour combines sightseeing, bird watching, sailing, and hiking for a full experience of Iceland's northern coastline. During spring and summer, your private guide will take you see the seabird colonies which nest here during the warmer months giving you the chance to spot gannets, kittiwakes, ravens, gyrfalcons and more before you head out on a hike to get up to close to the local puffins.
Off the Beaten Path Experience
Surrounded by the sloping hills of the Fljót Valley and with endless views of the wild Iceland terrain, Deplar Farm is an Icelandic retreat offering a truly off-the-beaten path experience. The remote location gives guests the chance to immerse themselves in the Icelandic experience, from embracing the rugged landscape through activities such as sea kayaking, surfing, and horseback riding to spending evenings cosied up watching the famous Northern Lights dancing through the night sky.
Chef Garðar Garðarsson, who was Iceland's 2018 chef of the year, has brought modern techniques and international influences to Deplar Farm to put a unique spin on Iceland's traditional cuisine. Garðarsson works closely with local farmers and fisherman to offer a source-to-table menu which celebrates Icelandic produce, think langoustine soup and pasture-raised lamb, and is complemented by a selection of locally crafted beers and an extensive but carefully curated wine collection.
REQUEST
A Holistic Wellness Experience
Make the most of your time off the grid by immersing yourself in the soothing spa. The fully equipped space offers a complete wellness experience, from working out in the gym or yoga studio to enjoying some downtime in the sauna and steam room or taking a dip in the indoor and outdoor hot tubs and geothermally heated pools. Guests can also try out innovative therapies like Isopod flotation tanks and indulge in Tata Harper treatments which have been designed specifically for the Icelandic climate.
REQUEST
LIMITED AVAILABILITY
Private trips for groups can also be arranged.
INDOOR FACILITIES
All Daily Meals and All House Beverages
Geothermal Heated Indoor Pool
Premium Spa Facility Featuring 2 Flotation Tanks and 3 Treatment Rooms
Gym & Yoga Room
OUTDOOR FACILITIES
Geothermal Heated Outdoor Pool with Bar
Outdoor Hot Tubs
Tailor-Made Experience Planning
Daily Guided Adventures
Join some of the most accomplished people on the planet in the quest for enriching adventures, human connection and personal transformation.
Unique access to people and places that are often inaccessible, join our community of global travellers with a guestlist applicaiton.
Give back to local communities, supporting conservation causes or social initiatives that improve the quality of life for others.