Ol Jogi Wildlife Conservancy
STARTING FROM
Upon
Request
per night (EUR)
private group booking
REQUEST
WOOCOMMERCE TEST
Available for Private Bookings. Send a Request to Check Availability.
Questions? Contact us on Whatsapp
CHAT ON WHATSAPP
A Sanctuary For Endangered Animals
Ol Jogi is one of the leading private wildlife conservancies in Africa. Family-owned for over 40 years, Ol Jogi's primary mission is to protect and preserve endangered species and provide sanctuary for animals such as black rhinos, Grevy's zebra, and wild dogs. For guests, a visit to Ol Jogi offers exclusive access to the Ol Jogi home and its 58,000 acres of land, as well an incredible opportunity to immerse yourself in nature and get up close to the beautiful and diverse wildlife.
Wildlife Rescue Centre
Thanks to Ol Jogi's rescue and release work guests will be able to get up close to animals such as elephants rescued from Zimbabwe, blind rhinos, and orphan cheetahs and lions. The expert team will guide guests and help them approach these magnificent animals in a way that wouldn't be possible in the wild.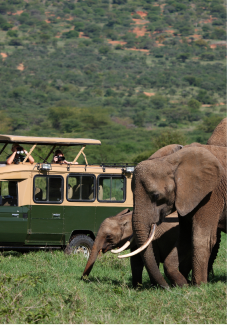 Game Drives
Head out into the wild on one of Ol Jogi's game drives in a custom-built, open-sided four-wheel drive vehicle. One of the Conservation Managers will expertly guide the experience, which is never the same twice, and share their knowledge of the area and wildlife conservation.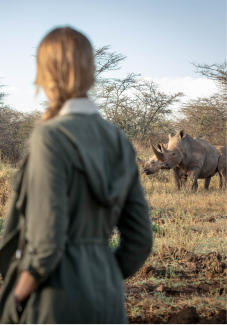 Bush Walks & Hiking
Leave the car back at the Ol Jogi house and head out into nature on a guided bush walk. A Conservation Manager will lead the hike, which can be tailor-made to each guest, pointing out the various flora, fauna, and birds which you'll spot along the way.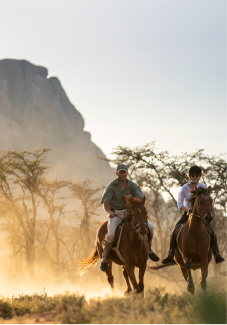 Horse Riding
The land surrounding Ol Jogi offers a spectacular setting for horse riding. There are horses to suit all abilities of riders so everyone can enjoy this magical experience in nature. As you ride through the pristine wilderness of Ol Jogi, you may have the chance to encounter a variety of wildlife.
Conservation & Community
Ol Jogi offers many ways to get more involved with the team and their work. You can start your day with a morning run alongside the armed guards, track rhinos with the rangers, visit Ol Jogi's primary school, or speak to the team about other ways to get involved during your stay.
Walk with Baboons
For an up close and personal experience with some of the animals living around Ol Jogi, head out on an exclusive walk with a friendly troop of Baboons on the Laikipia plateau. An experienced primate researcher will guide the experience and share their knowledge of these fascinating primates.
Flying
A scenic flight in a light aircraft or helicopter over the untouched wilderness of Ol Jogi offers an unforgettable experience. A view of the vast landscape from up high is not only incredible to see but also helps guests appreciate the diverse nature and size of the Laikipia Plateau.
A Heaven For Endangered Wildlife
A deep respect and passion for protecting wildlife is at the heart of Ol Jogi. The surrounding land provides a much-needed habitat and breeding ground for many endangered animals, and Ol Jogi is currently home to 22 species of ungulates, 5 species of large carnivores, 3 species of primates, more than 100 rhinos and the single largest population of the critically endangered Grevy's Zebra, with around 16% of the world's remaining population living on the property.
Wildlife On Your Doorstep
Ol Jogi's luxury private home offers exclusive use of eleven bedrooms housed within eight cottages. As well as having the property for yourself, you'll also be able to sit back, relax, and watch a host of wildlife pass by as they visit the watering hole right in front of the house. An underground tunnel can also take you from inside the house directly to a hideout at the watering hole where you can observe herds of buffalo or an endangered black rhino up close and in complete safety.
REQUEST
Organic And Sustainable Cuisine
Ol Jogi's fresh and sustainable cuisine is based around organic seasonal produce sourced from its own vegetable garden and local farmers. Guests will have access to their own team of private chefs who can design a bespoke culinary offering to suit all tastes and preferences, and create some unforgettable dining experiences in the heart of the wilderness surrounding Ol Jogi.
REQUEST
Full Exclusive Use Of The Whole Property
All Spa Treatments
All Meals Whether Served At The Veranda, Pool, Dining Room Or In The Bush
All Beverages Including Alcohol, Fine Wines And Champagnes
4×4 Guided Game Drives
Guided Wilderness Walks
Horse Riding
Transfers By Vehicles From Nanyuki
Wi-Fi
Laundry
FACILITIES INCLUDE
INDOOR FACILITIES
Main House
Living Room
Dining Room
Bar
Library
Games Room
Business Center
Spa
Hammam
Gym
OUTDOOR FACILITIES
Wildflife Conservancy
Water Holes (Animal Spots)
Swimming Pool
Private Vehicle Available
Join some of the most accomplished people on the planet in the quest for enriching adventures, human connection and personal transformation.
Unique access to people and places that are often inaccessible, join our community of global travellers with a guestlist applicaiton.
Give back to local communities, supporting conservation causes or social initiatives that improve the quality of life for others.