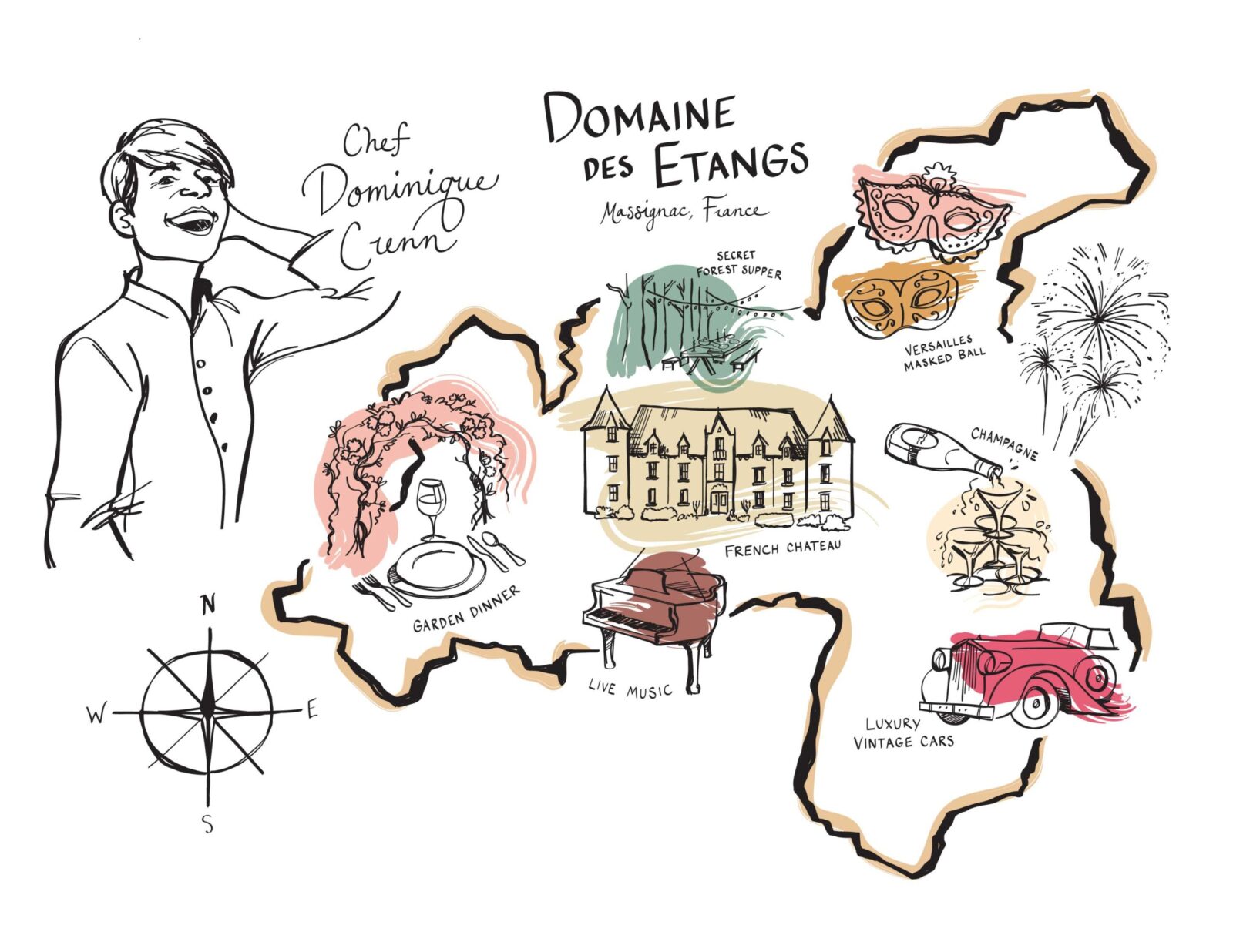 Join Chef's Table Hosted Experience with Dominique Crenn
Introducing a 5-day exquisitely crafted experience of molecular gastronomy, art and indulgence. A "behind the scene" look at how food is grown, cured and prepared in France – with a revolutionary and world renowned chef who's leading the charge to redefine French cuisine using influences of her chosen home in California.

You will use all of your senses as you are transported into the exclusive world of French fine dining and living – enjoying masterclasses and intimate discussions with the Master Chef; tastings of limited release Cognac, Champagne and caviar; private concerts and exploring the untouched parts of the French countryside. A curated and rare insight to vintage France.
This magical experience will take place at Domaine des Étangs, a 13th century former castle nestled in the Cognac region and often closed to the public. The grounds boast breathtaking nature that has attracted French art society for years – earning its place in history as the ultimate escape.

Please submit your guestlist request for one of the most exciting gastronomy experiences of the year, taking you on a journey through food, nature, poetry & art.
Meet Your Host
Chef Dominique Crenn
— CELEBRITY CHEF, AUTHOR & RESTAURATEUR —

The chef-owner of Atelier Crenn in San Francisco is the only female chef in the U.S. to attain three Michelin stars, and continues to be a huge influence in the culinary world – winning a James Beard award and the Icon Award 2021 for The World's 50 Best Restaurants.
Crenn's style has evolved over the years, incorporating her experience growing up on her families farm in France, her mother's cooking, and her father's love for refined art and interest in high-profile restaurants.
She rose to fame as her food masterpieces were featured in Food Network shows, The Next Iron Chef competition and Netflix Chef's Table episode. She recently served as the culinary consultant for the movie, The Menu, coaching Ralph Fiennes' chef character and crafting the food that is seen on screen.
Read More
A Magical Historic Chateau to Celebrate Food, Life & the Arts
A Place of Life in Harmony With Nature.
As a landmark in French history, the Domaine des Étangs is a fabulous fairy-tale hotel and a former chateau fit for royalty, complete with towers, surrounded by lakes, meadows and mills. The estate grounds offer a magical setting between the forest and the lakes, for the culinary event of the year, surrounded by a landscape of waterways and woodlands, and transformed into a fabulous playground of marvels.
Read More
BOOK NOW
Live within the magic of a 'Poetic Culinaria' experience
"Well, I don't think I'm a chef. I'm just someone who found a way of speaking. It was not a pen. It was not a brush. It was food."
— DOMINIQUE CRENN —
Get lost in the wondrous world that Dominique and Domaine des Etangs will create for you. As you dive into the epitome of beauty and harmony of sights, sounds and flavors. The ultimate journey as you're transported to another time when medieval knights and duchesses roamed the Chateau halls. This intimate escape will provide moments of pure delight and wonder for you and your companions.
The peace and tranquility of the location will be punctuated with moments of richness and celebration – all personally crafted to tell a story of artful expression by the Masterchef Dominique Crenn.
BOOK NOW
WHAT'S INCLUDED
Special Seasonal Menu by Chef Dominique Crenn
Luxury Accommodation at Le Domaine des Étangs
Airport Transfer
Full-board Menu
Welcome Reception
Masterclass with Chef Dominique Crenn
Evening Themed Dinners & Entertainment
Personal Concierge to design bespoke activities on and off-site



LIMITED AVAILABILITY
Private trips for groups can also be arranged.
Booking is now open, join the guestlist to book.
Dominique Crenn will welcome you to Le Domaine des Étangs – this off the beaten track 13th-century château is not your usual retreat. It is one of the most luxurious hotels in the south-west of France. Located between Angoulême and Limoges, this charming property is nestled in the heart of the Charente region, known for the tranquility of its green and hilly landscapes.
This untouched part of France is magical with its forests, lakes, gardens and proximity to the Cognac and wine houses serving vintage selections.
We will bring the best of this region of France directly to you and additional activities can be booked based on personal preference
INDOOR FACILITIES INCLUDE
Heated Indoors Pool by the Roman baths.
Moulin des Étangs Spa
Dyade Cocktail Bar
Art Exhibition
Library
Fitness Centre
Pet-Friendly
OUTDOOR FACILITIES INCLUDE
Wood-Decked Swimming Pool
Lakeside Floating Tennis Court
Leisure Walking Trails
Extensive Art Collection
Organic Vegetable Garden
Rowing Boats on the Lakes
Bikes & Cycling Paths throughout the Estate
Landscaped Gardens
Electric Vehicles for Guests
Guest Arrival at Le Domaine des Etangs
Champagne & Cocktail Reception
French Gardens Dinner by Chef Dominique Crenn
Cognac Tasting & Appreciation Experience
Breakfast
Explore & Enjoy Domaine des Etangs
Lunch
Afternoon Experience: Organic Vegetable Garden
Art Collection Private Viewing
Secret Forest Supper by Chef Dominique Crenn
Breakfast
Explore & Enjoy Domaine des Etangs
Lunch
Afternoon Experience: Cooking with Dominique
Fitting for the Versailles Masked Ball
Golden Night Dinner by Chef Dominique Crenn
Breakfast
Explore & Enjoy Domaine des Etangs
Lunch
Fitting Rooms
Dinner by Chef Dominique Crenn
Versailles Masked Ball
Farewell Hangover Brunch
Guest Departure
VIEW FULL ITINERARY
Dominique Crenn is the co-owner and chef of the three-Michelin-starred restaurant Atelier Crenn in San Francisco where she filmed her Netflix episode of Chef's Table. At Atelier Crenn, artistry is at the forefront, cuisine is a craft, and the community is an inspiration. "Atelier" can be defined as a workshop or studio, a concept that drives Chef Crenn's modern vision for fine French cuisine. Her highly distinctive French heritage and imaginative gastronomic lair behind the stove at Atelier Crenn is a clear reflection of her unique life story.
Dominique, born in Brittany, France, she immigrated to the USA in her twenties, and settled in California, followed by a stint to Indonesia then back to the USA again. Well known for the precision with which she executes every plate that leaves her kitchen, Crenn's signature approach to haute cuisine diverges from what one expects of a French chef in one crucial way: She doesn't serve meat.
Known as the first and only female chef to date to obtain three Michelin stars in the United States for her Atelier Crenn restaurant in San Francisco in 2018. Notably, she also received her 4th star following the opening of Bar Crenn. In 2021, she gained the Icon Award from the World's 50 Best.
Even before her Chef's Table debut on Netflix, Crenn has been an inspiring powerhouse in her kitchen and beyond. To define Crenn by her role as a professional cook is almost too limiting. As one of the finest chefs in the world, she's also an activist and campaigner who drives change in society through her voice and her actions equally. She is an articulate champion of women's rights, of workers' rights, of sustainable practices, of healthy living, of the LGBTQ+ community, and even the cancer community (she is cancer-free now after being diagnosed with breast cancer in 2019).
Thank you to our partners.
Join some of the most accomplished people on the planet in the quest for enriching adventures, human connection and personal transformation.
Unique access to people and places that are often inaccessible, join our community of global travellers with a guestlist applicaiton.
Give back to local communities, supporting conservation causes or social initiatives that improve the quality of life for others.